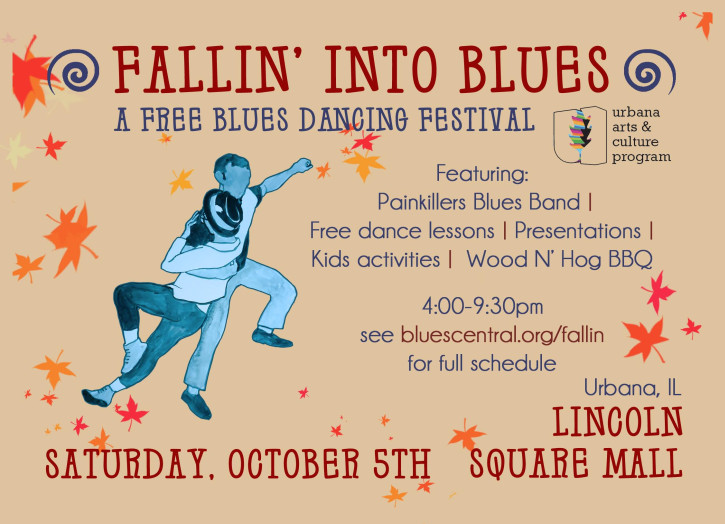 October 5th, 2019 at Lincoln Square Mall, bluesCENTRAL will host a half-day blues music and dance festival.
Highlights
Presentation on the history and culture of blues music and dancing
Dance instruction for beginners
BBQ dinner for sale from Wood-n-Hog BBQ
Live music and dancing to the Painkillers Blues Band
We are in need of vounteers for our Fallin' into Blues event! If you are interested in volunteering for Fallin' Into Blues, please look at our Volunteer page for options!
Schedule
Saturday, October 5th
Time
Event
4:00 pm – 7:00 pm
Fun for Kids
4:00 pm – 7:00 pm
Free Lessons
   4:00 pm – 4:30 pm
   The Right Foot: Getting Started with Blues Basics
   4:30 pm – 5:00 pm
   Dance Speak: Connecting to a Partner
   5:00 pm – 5:30 pm
   Moving Around: Using More of the Floor
   5:30 pm – 6:00 pm
   Perfectly Paus(ible): Creating Dramatic Effect by Breaking
   6:00 pm – 6:30 pm
   Sharing a Center: Compression and Counterbalance
   6:30 pm – 7:00 pm
   In the Groove: Jammin' Through Your Moves
7:00 pm – 9:30 pm
Painkiller Blues Band with Line Dancing at Band Break