Registration is Open!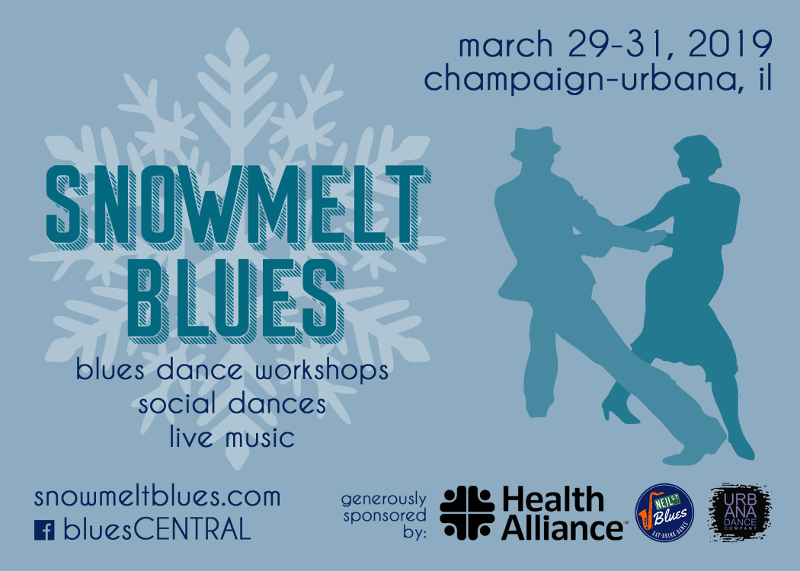 Join us for a weekend full of social dancing and blues dance workshops.
Mix it up Friday night with the Kevin King Quartet playing half blues and half swing music at our 50/50 dance, the first in a monthly series hosted by Urbana Dance Company in their beautiful dance space.
Dinner and dance to live blues music from the Susan Williams Blues Band at Neil Street Blues, the newest and hottest blues venue in town.
Enjoy seven hours of classes with our passionate instructor and long time blues dancer, Chris Dove.
Learn blues dancing with beginner-friendly workshops.

Improve your foundational lead/follow technique

Enhance connection and rapport with your dance partners

Jazz it up with some cool moves!

Get your groove on with live music and new dance friends
Before you head home, enjoy an intimate Sunday potluck brunch and practice dance with friends to cap off the weekend.
Sponsors
We would like to think our generous sponsors for making SnowMELT Blues possible:
Main Sponsor

| | |
| --- | --- |
| Friday Night Dance Sponsor | Saturday Night Dance Sponsor |
Workshop Sponsor
Instructor: Chris Dove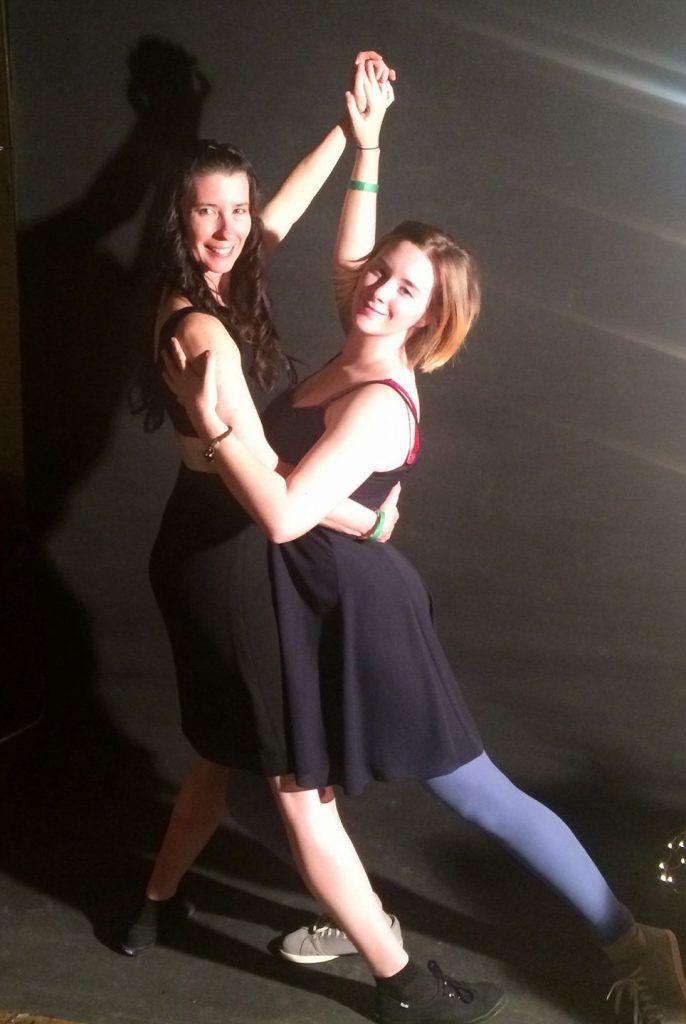 Chris Dove (on the left in the photo) cannot remember a time before she was a dancer at heart. When she hears music, she feels it deep inside and is compelled to move. This is the passion that brought her to ballet when she was eight, and is the reason why she began a training course for social dance instruction at eighteen. She brings almost two decades of dance experience in various genres including Blues, Lindy Hop, West Coast Swing, Ballroom, Fusion, Zumba, and Belly Dancing. She is a long-time instructor with dance studios, dance organizations and university dance clubs in the various towns in the mid-west and southern United States as well as Tobacco Road Blues Exchange in Durham, NC and Dirt Cheap Blues Festival in Virginia Beach.
Through her teaching, Chris invites others to experience the wonders of movement and rhythmic partnership. She challenges workshop participants to expand and refine their ability to connect deeply to themselves, the music, and their partners. Participants polish skills that a dancer uses to embody the subtleties expressed in blues music. Through the revisiting of foundational concepts and fundamental techniques, Chris prepares participants to move seamlessly through the intricacies of more advanced moves. While cultivating their grasp of dance concepts, participants embrace the complexities of connection.
Venues
Neil Street Blues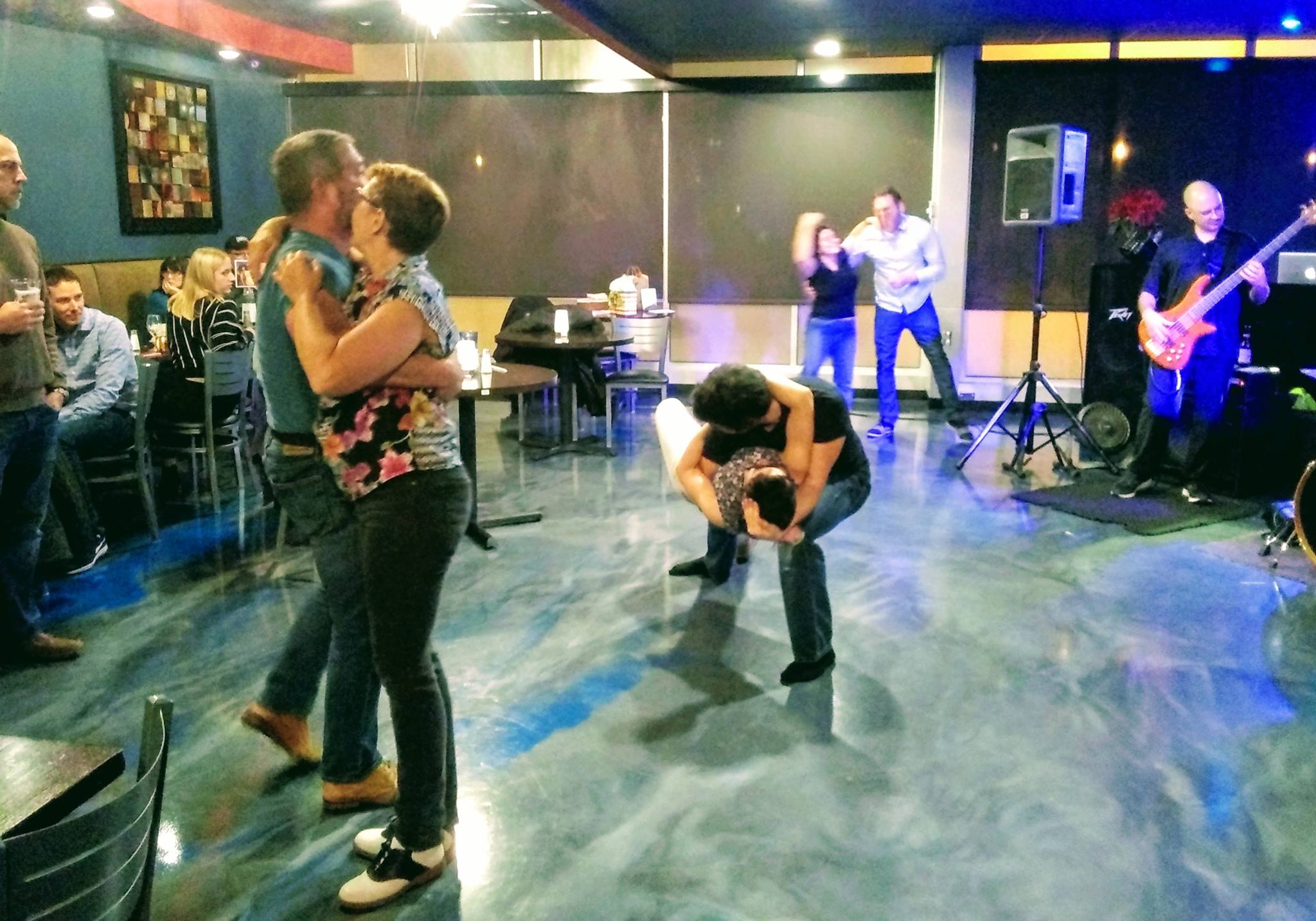 Champaign-Urbana's very own blues bar. Located in the heart of downtown Champaign. Our Saturday workshops and Saturday night Dinner and Dance will happen here. Food and drinks available from their menu and bar. Free parking on Saturday in the Hill St Parking Deck right next door.
Urbana Dance Company

A beautiful space with a great dance floor, our Friday night 50/50 dance will happen here. 122 West Main Street, 2nd Floor, Urbana. Free parking 5pm and later on the street and in the downtown Urbana municipal parking garage.
The Channing-Murray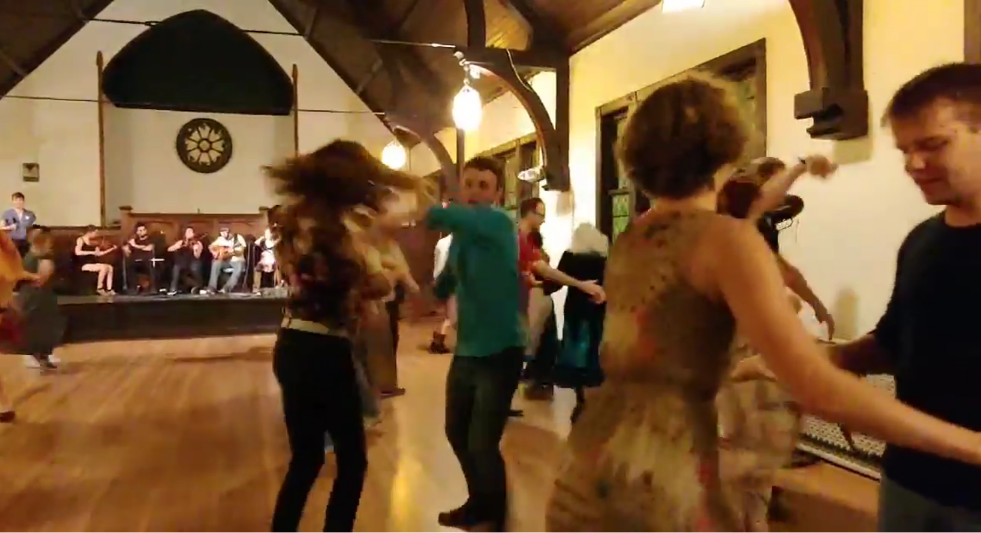 We've upgraded the Saturday Night Main Dance to a larger space to make room for all the dancers who've registered for SnowMELT. The beautiful Channing Murray chapel, beloved by C-U dancers, will now be our venue for this dance.
Jennifer's Home Dance Floor
Space permitting, our Sunday workshops, and our Sunday brunch will be at bluesCENTRAL organizer Jennifer White's home. She's got a great dance floor with room for a few dozen dancers in a relaxed, intimate setting. If SnowMELT registrations exceed that, we'll move this event to a larger venue to be announced.
Bands
Susan Williams Band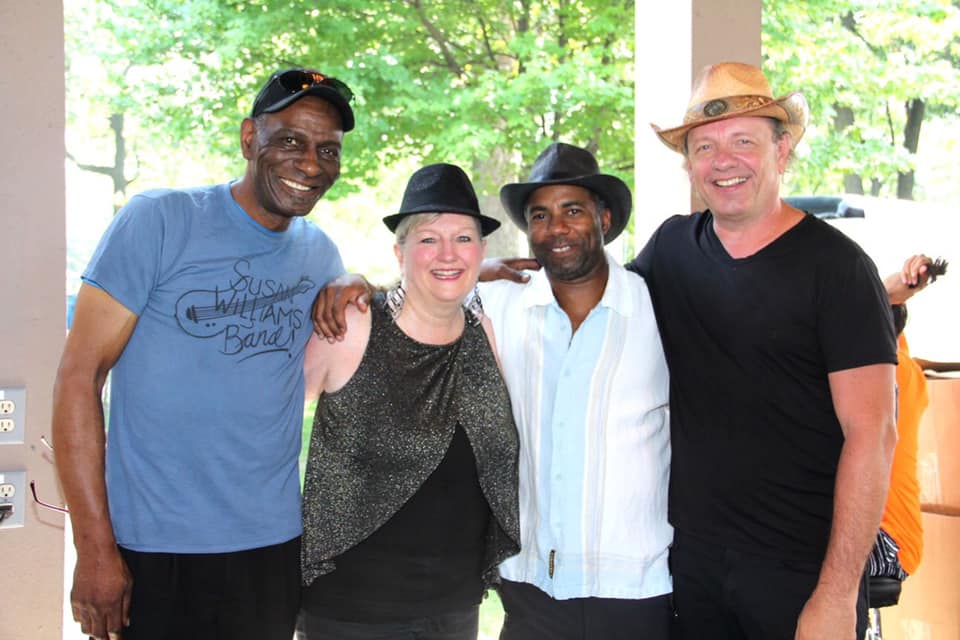 This Chicago-based blues band will play our Saturday Night Dinner and Dance. Authentically bluesey, and absolutely danceable, we can't wait. Full band bio here.
Kevin King Quartet
The Kevin King Quartet has played all across the Midwest and beyond providing intense and soulful music to all. They will play both swing and blues music at our 50/50 dance on Friday night. Portions of this dance will be DJ'd as well.
Schedule
Friday, March 29
Time
Event
Venue
8:00pm
Beginner lesson prior to the dance.
Urbana Dance Company
8:30pm-Midnight
50/50 Blues/Swing Social Dance with Kevin King Quartet
Urbana Dance Company
Saturday, March 30
Time
Event
Venue
10:00am to 5:00pm
Workshops with Instructor Chris Dove
Neil Street Blues
5:00pm
Break
6-9pm
Early Dance
with Susan Williams Band
Dinner available for purchase.
Neil Street Blues
9pm-Midnight
Saturday Main Dance
Channing Murray
Sunday, March 31st
Time
Event
Venue
10:00am to 12:15pm
Workshops with Instructor Chris Dove
TBA
12:15pm to 3:30pm
Farewell Potluck Brunch and Practice Dance
TBA
Classes
Saturday, March 30
Time
Topic
10:00am
Foundational Concepts and Fundamental Techniques, Part 1: Engage, rethink and refine your frame. Play with compression and counterbalance.
11:15am
Foundational Concepts and Fundamental Techniques, Part 2: Amplify, condense and isolate your movements. Applying physics on the floor.
12:15pm
Lunch break. Lunch available for purchase at Neil Street Blues.
1:30pm
Forming Partnerships: Getting in the groove; Building rapport; Actions and reactions; Co-creation and narration.
2:45pm
Jazz it Up! A perfectly placed pause. Completion.
4:00pm
Jazz it Up! Slides, skips, dips.
Sunday, March 31st
Time
Event
Venue
10:00am
Negotiation of Space and Embrace: Expanding and shrinking space, sharing a center, turning together.
11:15am
Negotiation of Space and Embrace: Lagging a little and Softer, closer quieter.
Housing – Register Early!
We will invite our local dancers to host out-of-town attendees, and offer that housing option during registration, on a first-come, first-served basis.
Prices & Registration
Pass Prices
Full Weekend Pass
Until March 25th
$69
Full Weekend Pass
At-the-Door
$79
All Social Dances Pass
Until March 25th
$20
All Social Dances Pass
At-the-Door
$25
A La Carte Prices
Friday Night Dance
At-the-Door
$13 (students $10)
Saturday Night Early Dance
At-the-Door
Venue Cover TBA
Saturday Night Main Dance
At-the-Door
$8 (students $5)
Sunday Afternoon Potluck Brunch and Dance
Pass Holders Only
Individual Workshops
Until March 25th
$10 each
Individual Workshops
At-the-Door
$13 each
Registration is Open!
Sign up for our email list to receive SnowMELT updates.