We're moving! Starting this week, bluesCENTRAL Weekly Lesson & Dance events will be hosted in the basement level bar at Guido's. We will *not* be meeting at Cowboy Monkey for a few months because they are remodeling. Come to Guido's this Monday.
Sierra and Dave are back to teach the lesson this week. They'll teach lunges, including some discussion of musicality and ending a phrase, and a combination of moves that uses a lunge and some of the walking techniques we've been working on.
Jennifer has curated another special playlist for us this week.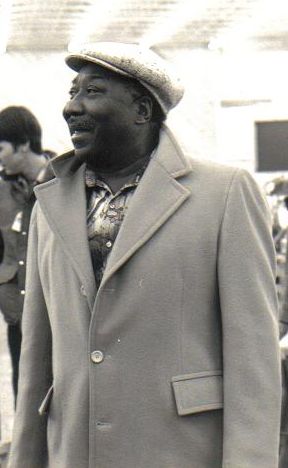 Muddy Waters (1913 or 1915-1983) is known as the father of Chicago blues. Having grown up in Clarksdale, Mississippi playing harmonica and guitar, Muddy was influenced by the acoustic sounds of the Delta blues style of Robert Johnson and Son House. Muddy drove a tractor on a plantation by day and ran a juke joint by night where he sold moonshine and played his music, developing his own musical style. He was first recorded by Alan Lomax in 1941. Like many other African Americans moving northward in search of work in that period, Muddy moved to Chicago in 1943. Muddy became played a pivotal role in the development of Chicago blues. Buying his first electric guitar in 1943, Muddy was one of the most prominent singers, songwriters and band leaders in the development of Chicago blues in the 1950's. Chicago blues is rooted in Delta blues and characterized by the addition of electric guitar, amplified bass guitar and harmonica played on a microphone with amplifier. Drums, piano, and occasionally a saxophone are also often part of Chicago blues instrumentation. Monday nights playlist will feature the Chicago Blues hits of Muddy Waters.